Created from natural ingredients and perfectly suited to the daily oral care of the entire. Containing a complex of active substances enriched with marine collagen with a strong regenerative effect on gums, our Collagen toothpaste has been formulated to ensure a beautiful, healthy smile. Thanks to its natural silica, it effectively cleanses, visibly brightens the enamel and gives the teeth a beautiful shine. The chamomile and aloe extracts have a soothing effect, while the green tea extract helps maintain an appropriate pH level in the mouth, thus inhibiting the development of caries-causing bacteria. Its nano silver has anti-bacterial and anti-inflammatory properties, and the red algae Corrallina Officinalis Extract strengthens the walls of the blood vessels in the gums. In addition, the algae extract contains an unusually high amount of natural calcium, which is the main building block of the teeth.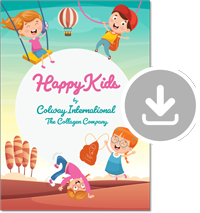 DOWNLOAD THE COLORING PAGE IN PDF
Collagen
extracted from fish skin using a method patented in Poland, collagen strongly regenerates the gums and helps rebuild them. Recommended for the prevention of periodontitis and periodontal disease.

Red algae Corrallina Officinalis Extract
contains extremely high amounts of natural calcium, strengthens the gums' blood vessels walls and increases their resistance to external factors. The algae also contains proteins, minerals and amino acids such as alanine, asparagine, glycine and lysine.

Chamomile Extract
contains chamazulene and a-bisabol essential oil, which consists of anti-inflammatory, antimicrobial and antifungal substances, as well as flavonoids, coumarins, mucus compounds and polysaccharides with antiseptic and anti-irritant properties.

Green tea extract
helps to maintain an appropriate pH level in the mouth, thus inhibiting the development of caries-causing bacteria and their harmful effect on the teeth. It also alleviates the symptoms of paradontosis, thanks to catechins (antioxidants), which eliminate the bacteria that cause inflammation in the mouth.

Axonite Nano Silver
has antibacterial, anti-inflammatory and soothing properties. The antibacterial properties of nano silver cause a significant reduction in metabolic activity and the number of colonizing bacteria, as well as the lactic acid production in bacterial biofilm that is responsible for the development of caries and periodontal disease. Axonite Nano Silver is also a natural preservative.

Aloe Vera Extract
moisturizes, soothes and reduces plaque. Recommended in the prevention of gingivitis, Aaloe has a softening, regenerating, antibacterial and antifungal effect. Helps in healing wounds and treating inflammation.

Silica
hydrated silica, silicon dioxide, that cleans and polishes teeth and helps to remove plaque; improves the consistency of the paste and facilitates its distribution.

INCI:Aqua, Hydrated Silica, Sorbitol, Glycerin, Collagen, Elastin, Collagen Amino Acids, Elastin Amino Acids, Aloe Barbadensis Leaf Juice, Camellia Sinensis Leaf Extract, Chamomilla Recutita Flower Extract, Corallina Officinalis Extract, Silver (nano), Ammonium Lauryl Sulfate, Xanthan Gum, Sodium Cyclamate, Citric Acid, Sodium Benzoate, Potassium Sorbate, Aroma, Limonene.

Brush your teeth with a small amount of the toothpaste at least twice a day. Rinse mouth thoroughly after use.