Children's skin hygiene requires special care and exceptional, delicate care products. Thanks to the presence of hydro active emollient and plant surfactants, it gently cleanses, oils and protects the skin. Effectively cleans the skin, and its gentle formula reduces the risk of irritation. It prevents excessive drying of the skin during washing. It does not affect the hydrolipid layer of the skin, which is a natural skin protection. The baby wash gel is so gentle that it does not sting the eyes. While bathing, it gives a pleasant, delicate foam. Baby's skin care cannot be accidental, so choose a specially composed and proven product.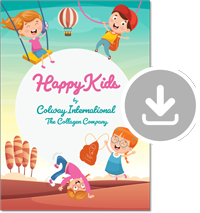 DOWNLOAD THE COLORING PAGE IN PDF
Fish collagen
extracted from fish skins by a method patented in Poland, is a natural source of peptides that freely penetrate the epidermis and stimulate fibroblasts for increased activity. It strikes the cause of wrinkles - a collagen deficit. It slows down the aging process by moisturizing, making the skin more elastic and regenerated.

Jojoba oil
protects skin against excessive water loss, gives a smooth and non-greasy finish. Thanks to vitamin E, it regenerates and acts as antioxidant. Recommended for dry skin having damaged lipid layer of the epidermis. It works comprehensively, effectively moisturizes and softens, soothes inflammations, nourishes and protects against wrinkles caused by dryness of the skin.

Aloe extract
strengthens the skin and protects it against harmful external factors; it provides moisture and nourishment and regulates natural pH of the skin. It leaves the skin smooth and soft to the touch.
D-panthenol
stimulates cell division, thanks to which it has a healing and regenerating effect, has anti-inflammatory properties, soothes redness, irritation and itching.
Sodium salt of PCA (pyroglutamic acid)
with a strong moisturizing effect on the skin. It rebuilds the proper hydration in the outermost layer - the stratum corneum of the skin. PCA is one of the most important components of the natural moisturizing factor - NMF. The NMF factor plays a very important role in moisturizing the epidermis, because it retains water and prevents its loss.

INCI:Aqua, Sodium Cocoamphoacetate, Cocamidopropyl Betaine, Lauryl Glucoside, Glycerin, 1,2-Hexanediol, Citric Acid, Collagen Amino Acids, Hydrolyzed Jojoba Esters, Panthenol, Elastin Amino Acids, Collagen, Sodium PCA, Elastin, Aloe Barbadensis Extract, Hydroxyacetophenone, Sodium Chloride, Sodium Benzoate, Potassium Sorbate, Parfum.
Apply a small amount of gel to the skin, massage till it foams. Rinse thoroughly with water.